Our space occupies about 6500 square feet consisting of two 2000 sq ft warehouse bays that constitute our workshop areas, along with general work space, office and support areas.
Select an area to view: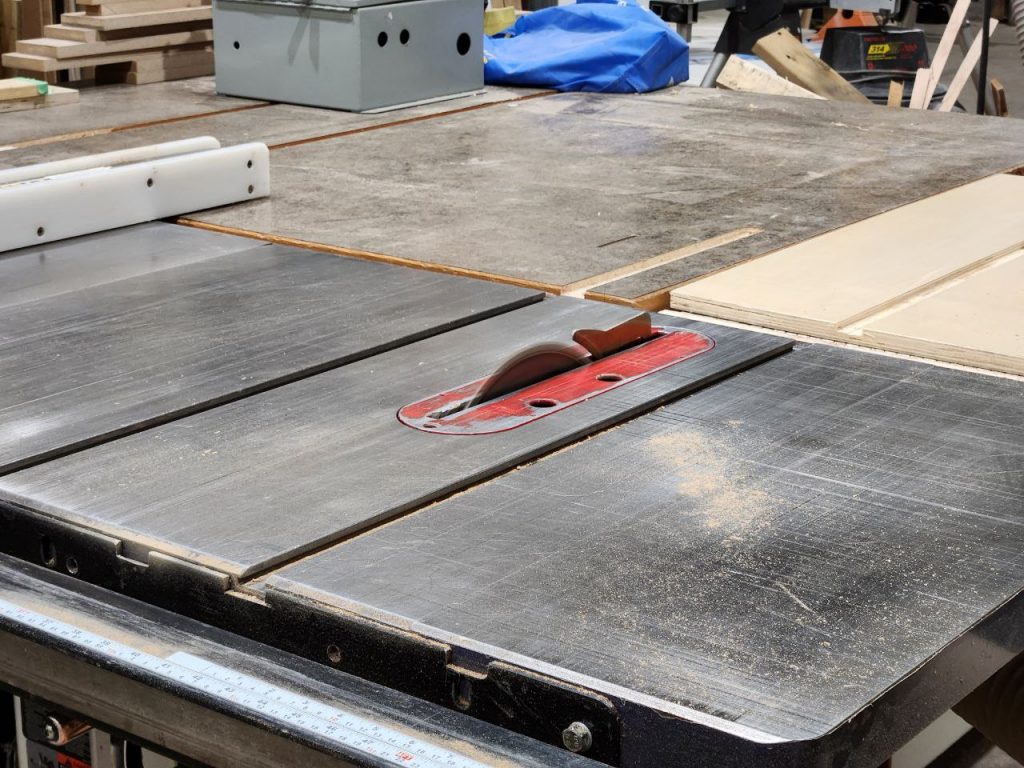 Floor Map
Click the map for more info. Phone users: try landscape mode.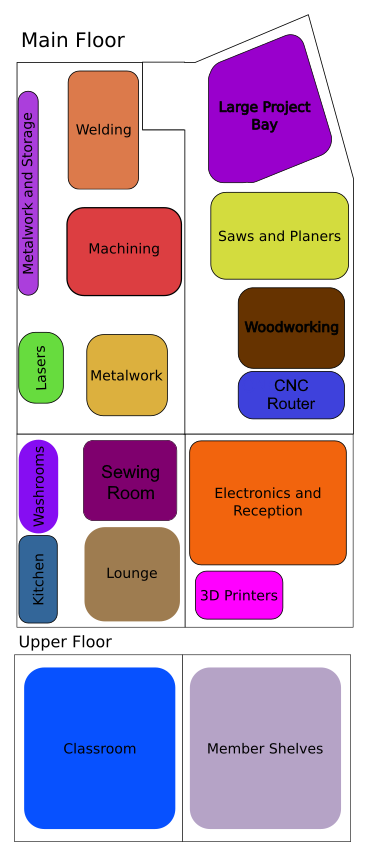 Welding
A shielded place to do work on your welding projects. We have:
-Tig Welder
-Mig Welder
-Manual Plasma Cutter
-Angle grinders
There is a nominal cost associated with using the welding equipment.
Machining
We Have:
-Lathe
-CNC Mill
-Manual Mill
Training is required to use these machines.
Lasers
We have two laser cutters where you can cut wood and some plastics. Unfortunately they're not advanced enough to take over the world.
Training is required to use these machines. Members get a set amount of free time on the lasers each month. Members can pay for additional time.
Large Project Bay
This is an open area with extra space so you can work on larger projects. Need to work on your car in the middle of a snowstorm? We've got you covered.
Generally we ask that projects are gone by the end of the day but if you need to leave it longer, make a pitch to our membership on our google groups list.
Saws and Planers
This area contains some of the larger woodworking tools such as:
-Table saw
-Planer (Jet JPM-13CS)
-Thickness planer (Ryobi AP1301)
-Table saw (Craftex CX201)
-Drum Sander (General International 15-250 M1)
There is a dust collection system so you can use these tools without making too big a mess.
Woodworking
This area has surfaces so you can work with some of the smaller hand tools.
Kitchen
Here is where the most important tool for making is located: The coffee machine! We also have a selection of other drinks and snacks in our vending machines. Just remember, the fridge is for food, not science.
Lounge
A nice quiet place to think or have a meeting. The Calgary Steampunk Assemblage helped us set this room up.
Electronics and Reception
This is where we welcome you to Protospace! We have a little museum of donated member projects, large work surfaces and all the things you need to work on electronics projects, like:
-Soldering and rework station
-Electronic Components (take a part leave a part)
-Oscilloscopes
-Digital Multi-Meters (DMM)
-SMD Oven
-SMD Microscope
-Misc. other test equipment.
3D Printers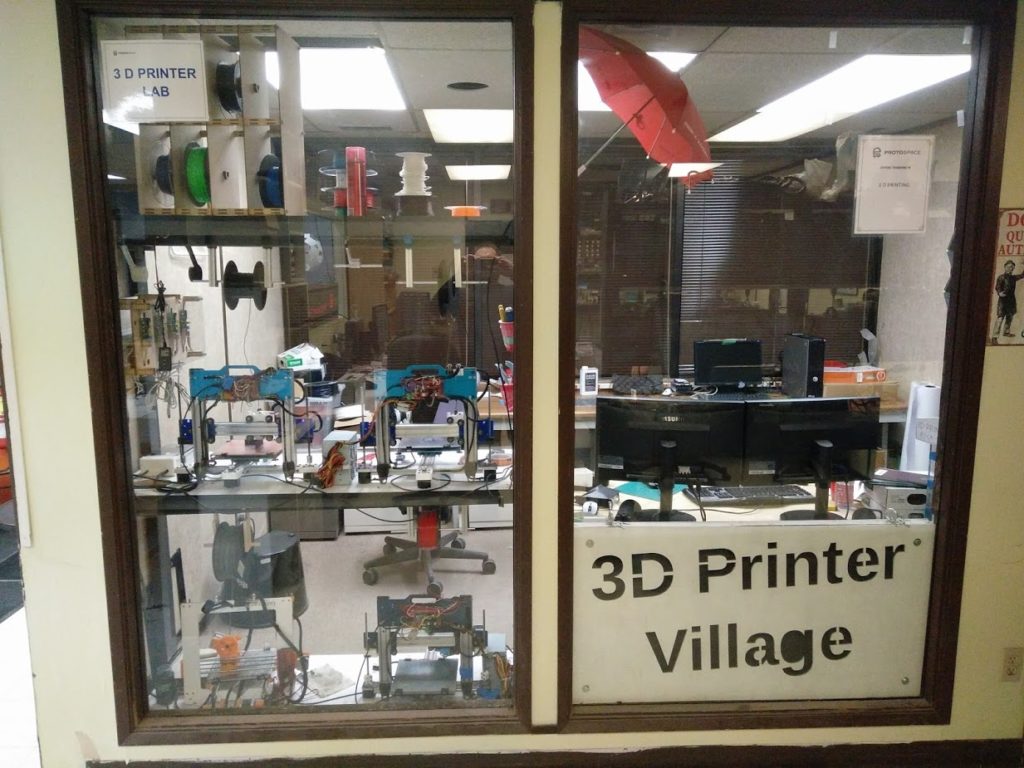 A selection of 3D printers for anything you want to make with filament or resin. There is a nominal cost associated with using these printers.
Classroom
Here we conduct the theory part of our classes, members meetings, movie nights and general socializing. We also have computers with software for some of our more advanced tools and an industrial sewing machine.
CNC Router
Training is required to use this tool.
Sewing Room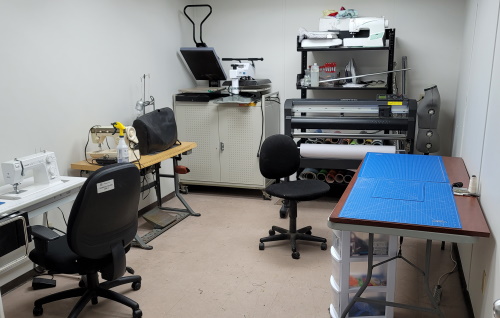 This is our newest room! This is a space to work on your sewing or cosplay. We have:
-Tajima 15-head industrial embroidery machine
-Brother garment printer
-Vinyl cutter and plotter
-Industrial sewing machine
-Regular sewing machines
-Serger
A cost is associated with using the Tajima.
Facilities available to members include (training may be required):
New Sewing Area (embroidery machine, serger, DTG printer, sublimation machine)
Electronics Area (soldering, oscilloscopes, power supplies)
3D Printer Village
Laser Cutters
Woodworking Shop (table saw, miter saw, bandsaw, sanders, planners, jointer, CNC Routers large and small)
Machining Shop (milling machine, lathe, CNC milling machine)
Welding Shop (MIG, aluminum spool gun, AC/DC arc/stick, TIG welder)
Member Storage
Classroom Space (with computers and projector)
Lounge
Office/Small Meeting Room
Our space is always growing. We add new tools and features every month. If you haven't seen us in a while, drop by and and see what's new!
Tool Donation Wishlist
Protospace will benefit from the following tools:
Sawstop table saw

Soldering irons

Metal lathe collect chuck
Large wood planer
Engine hoist
Motorized winch / gantry
20″ disc sander
Panel saw
Pantorouter
Thermal camera
Pottery equipment
Glassblowing equipment